We love our clients.
We've had the privilege of working with many of Colorado's favorite companies, schools and small businesses. Our clients include:
The Art Institute of Colorado
Denver Center for the Performing Arts
Steuben's
Whole Foods Market
RTD
Better Business Bureau of Denver
Department of Veteran Affairs
Sonnenalp Hotel in Vail
Montbello High School
Loveland High School
Park County Schools
University of Colorado
City of Centennial
City of Lakewood
Adams County
Jefferson County
Colorado Women's Chamber of Commerce
Colorado Academy

Colorado Automobile Dealers Association

Aurora Police Department
Zocalo Community Development
Cabela's
Sports Authority
Pepsi Beverage Company
Good Sam
Boys & Girls Clubs of Metro Denver
Denver Children's Advocacy Center
9Health Fair
Red Robin
KUSA-TV
National Cinemedia
KMGH-TV
NIOSH
Western Union
BWG Architects
JG Johnson Architects
Starz Entertainment
Colorado Parks and Wildlife
CU Foundation
Denver Health
Vail Resorts Management Company
Winter Park & Fraser Chamber
Design Workshop
Tetra Tech
United Car Care
Mountain View Fire Protection District
Pinnacle Real Estate Advisors
Rocky Mountain Magazine
Oracle
Cornerstone Apartment Services
The Club at Rolling Hills
Gracious Gifts and Corporate Gift Concierge
Casey Industrial
D&L Art Glass Supply
Peak Learning Systems
Xybix Systems, Inc
NorthStar Capital Markets
JMG Marketing Group
Excell Marketing
Extra Strength Marketing Communications
Hobby-Whalen Marketing
Fusion Marketing Group
CAP Logistics
BCER Engineering
Metro Denver Lemonade Day
Brown and Caldwell
American Tire Distribution
The Flyfisher Group
Association for Experiential Education
Validated Visions
WinterKids/WinterWomen
Denver Employees Retirement Plan
Sage Trading
Colorado Foundation For Medical Care
IQNavigator
MWH Global
LMI Packaging Solutions
Ubiquity Group
Colorado Lending Source
Sugarlicious
Blue Mountain Belle
NCM Media Production
Gallun Snow Interior Design
ConMed Electrosurgery
Britina Design Group
Park Meadows Cosmetic Surgery
FCC Services
Cornerstone Apartment Services
Boa Technology
Colorado Optometric Association
Karen & Company Realty
Michael Baker International
Communication Infrastructure Group
Webb Strategic Communications
Mirada Medical
Bright Future Foundation
Sage Hospitality
United Airlines
Baseline Engineering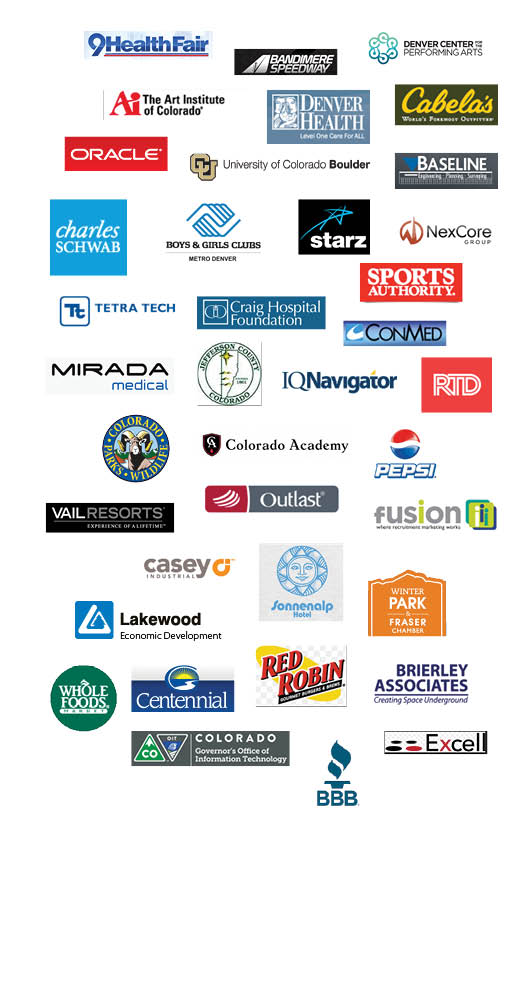 Our clients are always generous about sharing their experiences with others—to read some testimonials, please visit our Testimonials page.