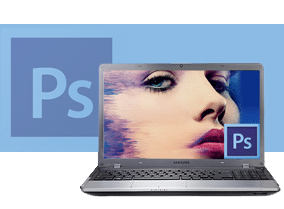 Upcoming Adobe Photoshop Classes:
Event Phone: 303.941.1727
Event Phone: 303.941.1727
Event Phone: 303.941.1727
Event Phone: 303.941.1727
Event Phone: 303.941.1727
Adobe Photoshop Classes
---
Adobe Photoshop is the premier digital imaging software, providing tools that will let you edit and manipulate images as well as create realistic painting effects.
Photoshop is an excellent tool for editing photos. If a designer is preparing a digital or scanned photograph for use in a project, whether it be a website, brochure, book design or packaging, the first step is to bring it into Photoshop. Use Photoshop to: crop and resize photos, enhance and correct colors, retouch blemishes or damage, apply filters for special effects and styles, design websites, optimize photos for the web by choosing file formats and reducing file size, design assets for mobile apps, create animated gifs and simple video, create simple 3D effects, save photos in a variety of formats for use in print projects, create digital paintings, and much, much more.
Check out https://helpx.adobe.com/photoshop/how-to/photoshop-cc.html for more information from Adobe on Photoshop's capabilities.
Topics covered in your Adobe Photoshop Class Level 1 training:
Basics—Creating a document/Learning the interface

Customizing the Photoshop Workspace—Getting organized

Working with Selections—Isolating and working with portions of your image

Enhancing, Coloring, Sharpening, Sizing photos—Make your colors pop and your photos look professional

Understanding Resolution—Never print a poor quality, pixelated image again!

Removing Distractions—For those photos with embarrassing and unwanted background elements

Working with Layers—Organizing your project

Working with Type—Basic type and special effects

Working with Masks and Channels—Advanced features for non-destructive photo editing

Preparing graphics for the web—What you need to know

Filters, Effects and Brushes—Add dazzle and pzazzzzz

Creating Vector Graphics in Photoshop—How to lose those fuzzy edges

Color Effects and Enhancements—How did they do that?

Lose Weight, Banish Wrinkles, Build Muscles—All in Photoshop!

Learn the basics and so much more!

Our classes are small and focused, with a lot of individual attention and targeted learning. Our goal is to meet your specific needs and improve your skills, productivity and confidence.
Advanced, customized and onsite classes:
Advanced and/or customized training is offered for all levels and class sizes in the Rocky Mountain region. Teams function productively by learning Adobe software together, with the focus on sharing skills and boosting group synergy.
Visit our Onsite Training page to request a customized quote.
Questions? Contact us and get a response within 24 hours!