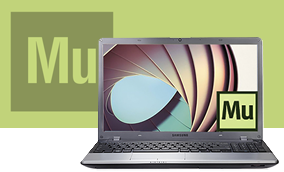 This class will run as custom training—dates, duration and pricing will be arranged between you and your instructor. Please contact us with the onsite training form, and we will get back to you within 24 hours.
Adobe Muse Training Denver
---
Adobe Muse creates and publishes dynamic websites for desktop and mobile devices that meet the latest web standards — without writing code.
Muse was developed to mimic the feel and experience of InDesign—Adobe's page layout and desktop publishing tool. Muse uses conventions and tools that designers accustomed to InDesign, Illustrator, or Photoshop will find familiar. It is that familiarity, coupled with professional Web design tools and support from the broader Adobe Muse community that make this tool so powerful.
For users, knowing that there are resources available, such as Web design templates, and that there are experts in the community willing to help guide new users and provide assistance makes Adobe Muse attractive to novice developers.
The tools in Muse are fairly easy to use—especially for anyone familiar with any of the rest of the Adobe Creative Cloud tools—and that it is very easy to change elements of the project. Learn how simple it is to incorporate advanced Web design techniques like scroll effects without having to be a professional developer, or understand the code behind it.
Topics covered in our Muse training OR customize your own curriculum:
Exploring the Muse Interface
Planning Your Site
Creating a New Site
Working with Pages
Working with Graphics
Working with Text
Transforming Objects
Adding Color to your Site
Adding Interactivity/Widgets
Publishing your Site
And Much More…
See our blog entry: What is the Difference Between Muse and Dreamweaver? to see which software better suits you.
See our blog entry: Create A Website Without Writing Code to learn more about Muse.
Advanced, customized and onsite classes:
Advanced and/or customized training is offered onsite for all levels and class sizes in the Rocky Mountain region. Visit our Onsite Training page to request a customized quote.
Questions? Contact us and get a response the same day!