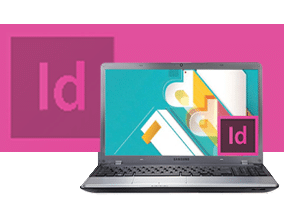 Upcoming Adobe InDesign Classes
Event Phone: 303.941.1727
Event Phone: 303.941.1727
Event Phone: 303.941.1727
Event Phone: 303.941.1727
Event Phone: 303.941.1727
Adobe InDesign Classes
---
Adobe InDesign is the industry standard page layout program used to create professional layouts for print and digital platforms and output to not only desktop printers, but to the high-end printing and plating systems of real-world print shops and to the web.
It is the end program where all of the elements in your project (photos, graphics, logos, text, charts, tables, etc) come together for layout and final output. In addition, InDesign can export HTML to transform your layouts for the web and can also publish content suitable for tablet devices. It has the capability to create interactive PDF or Flash files with hyperlinks, video, sound, animation, etc. for spectacular digital presentation materials.
InDesign gives you all the tools you need to design and print a professional looking product, giving you the competitive edge in your corporate communications. It makes repurposing your print designs for the web effective and easy.
Use InDesign to create: catalogs, ads, flyers, direct mail, proposals, spec sheets, brochures, calendars, packaging, posters, cd covers, letterhead, business cards, sales aids, billboards, social media ads, trade show displays, user manuals, books, in-store displays, and much, much more.
Check out https://helpx.adobe.com/indesign/how-to/what-is-indesign.html for more information from Adobe on InDesign's capabilities.
Topics covered in your Adobe InDesign Class Level 1 training:
Basics—Creating a document/Learning the interface

Customizing the InDesign Workspace—Getting organized

Importing Graphics—Sizing, transforming and using graphics in layouts

Working with Typography—Creating eye-catching type, enhancing readability

Working with Layers—Organizing your project

Working with Pages and Master Pages—Save time by creating page styles

Working with Color—Mixing and applying color and gradients

Working with Styles—Formatting text made easy and fast

Output and Exporting—How to make it print reliably

Preparing graphics for the web—What you need to know

Working with Transparency and Special Effects—Add dazzle and pzazzzzz

Learn the basics and so much more!

Our classes are small and focused, with a lot of individual attention and targeted learning. Our goal is to meet your specific needs and improve your skills, productivity and confidence.
Advanced, customized and onsite classes:
Advanced and/or customized training is offered onsite for all levels and class sizes in the Rocky Mountain region. Teams benefit from learning Adobe software together, with the focus on sharing skills and boosting group synergy. Visit our Onsite Training page to request a customized quote.
Visit our Onsite Training page to request a customized quote.
Questions? Contact us and get a response within 24 hours!