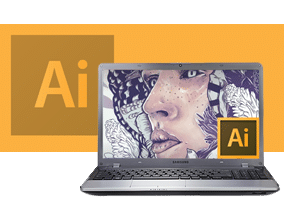 Upcoming Adobe Illustrator Classes:
Event Phone: 303.941.1727
Event Phone: 303.941.1727
Event Phone: 303.941.1727
Event Phone: 303.941.1727
Adobe Illustrator Classes
---
Adobe Illustrator is the vector drawing program in the Adobe Creative Suite. One of the big advantages of a vector program is that its elements are scalable without the loss of resolution, unlike bitmap images that store information in a grid of dots. So your graphic will look great on a business card, and just as crisp and clean wrapped around a bus.
Illustrator is a program full of different types of drawing tools, brushes and many illustration time-savers. Use Illustrator to create: logos, icons, infographics, social media ads and campaigns, illustrations, mobile app design, product packaging, maps, patterns, fashion design, flyers, animation frames, ads, technical and medical illustration and much, much more.
Illustrator integrates seamlessly with the other Adobe Creative Suite programs: with Adobe InDesign for print production, digital and print magazines; with Adobe Photoshop for integration of vector Smart Objects; with Adobe Acrobat for interactive PDF capabilities; and with Adobe Premiere, After Effects and Flash for web and video animations and title sequences. Plus Illustrator is great for creating assets for Powerpoint presentations.
Check out https://helpx.adobe.com/illustrator/how-to/what-is-illustrator.html for more information on Adobe Illustrator's capabilities.
Topics covered in your Adobe Illustrator Class Level 1 training:
Basics—Creating a document/Learning the interface

Customizing the Illustrator Workspace—Getting organized

Basic Shapes/Drawing Modes/Selecting and Aligning—The building blocks

Fill and Stroke—Applying color

Building Complex shapes with Shape Builder and Pathfinder—Combining and cutting out geometrics to create an image (great for creating logos and icons!)

Transforming Objects—Scale, Rotate, Reflect and Shear

Drawing Tools—Pen Tool, Pencil Tool, Width Tool

Color, Brushes and Painting—Mixing colors and using brushes

Working with Type—Creating type for posters, charts, banners, social media—you name it!

Working with Layers—Organizing your project

Working with Graphs and Infographics—Creating effective graphs and communicating visual data

Preparing graphics for the web—What you need to know

Special Effects—Add dazzle and pzazzzzz

Learn the basics and so much more!

Our classes are small and focused, with a lot of individual attention and targeted learning. Our goal is to meet your specific needs and improve your skills, productivity and confidence.
Advanced, customized and onsite Adobe Illustrator classes:
Advanced and/or customized training is offered onsite for all levels and class sizes in the Rocky Mountain region. Teams benefit from learning Adobe software together, with the focus on sharing skills and boosting group synergy.
Visit our Onsite Training page to request a customized quote.
Questions? Contact us and get a response within 24 hours!