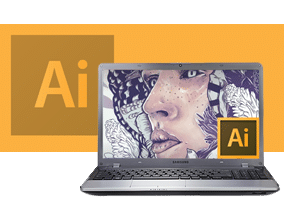 Upcoming Adobe Illustrator Classes:
Event Phone: 303.941.1727
Event Phone: 303.941.1727
Adobe Illustrator Training
---
Adobe Illustrator is a vector drawing program used to create logos, illustrations, cartoons, diagrams, charts and much more. One of the big advantages of a vector program is that its elements are scalable without the loss of resolution, unlike bitmap images that store information in a grid of dots. So your graphic will look great on a business card, and just as crisp and clean wrapped around a bus.
[wooslider slide_page="ai" slider_type="slides" thumbnails="default" id="AI Slideshow" order="DESC" order_by="date"]
Illustrator is a program full of different types of drawing tools, brushes and many illustration time-savers. Use Illustrator to create: logos, icons, illustrations, product packaging, maps, patterns, fashion design, flyers, animation frames, ads, technical and medical illustration and much, much more.
Illustrator integrates seamlessly with other Creative Cloud programs: with InDesign for print production, digital and print magazines; with Photoshop for integration of vector Smart Objects; and with Premiere, After Effects and Flash for web and video animations and title sequences.
Topics covered in your Illustrator Level 1 training:
Basics/Opening a Document/Introducing the Workspace
Basic Shapes/Drawing Modes/Selecting and Aligning
Fill and Stroke
Building Complex shapes with Shape Builder and Pathfinder
Transforming Objects
Drawing Tools—Pen Tool, Pencil Tool, Width Tool
Color and Painting
Working with Type
Working with Layers
Learn the Basics and so much more!
Advanced, customized and onsite classes:
Advanced and/or customized training is offered onsite for all levels and class sizes in the Rocky Mountain region. Visit our Onsite Training page to request a customized quote.
Questions? Contact us and get a response the same day!