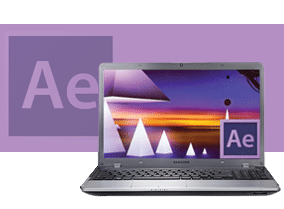 This class will run as custom training—dates, duration and pricing will be arranged between you and your instructor. Please contact us with the onsite training form, and we will get back to you within 24 hours.
Adobe After Effects Training
---
Adobe After Effects is a digital special effects, motion graphics, and compositing application used in the post-production process of filmmaking and television production.
After Effects is very popular with video makers — an industry standard in the mid-professional level. Only productions with extremely high demands or large budgets would need anything more sophisticated. After Effects is perfectly capable of producing high-quality compositions for television programs, commercials and even feature films. Each project includes a collection of media assets that are arranged in layers on a timeline.
Where After Effects differs from normal editors is that it is specifically designed for special effects. Although After Effects does let you perform most common editing tasks, its real purpose is to create advanced effects and composites rather than just cutting shots together. Typically, you would do the bulk of your editing work in an application such as Premiere Pro and use After Effects to work on smaller sections of the video that require advanced tools.
Topics covered in your After Effects Level 1 training OR customize your own curriculum:
Starting a new composition
Timeline and Key Frames
After Effects Workflow
Animation Basics
Precomposing and nested compositions
The power of effects
Working with video
Color-correcting footage
Painting
Working with masks and shape layers
Keying and compositing
Parenting and expressions
Rendering and compression
Learn the Basics and so much more!
Adobe After Effects, Level 1 Training Course (Download Course Outline)
Advanced, customized and onsite classes:
Advanced and/or customized training is offered onsite for all levels and class sizes in the Rocky Mountain region. Visit our Onsite Training page to request a customized quote.
Questions? Contact us and get a response the same day!