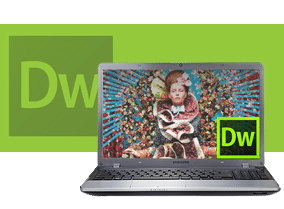 WE ARE NOT PROVIDING ADOBE DREAMWEAVER CLASSES AT THIS TIME.
This class will run as custom training—dates, duration and pricing will be arranged between you and your instructor. Please contact us with the onsite training form, and we will get back to you within 24 hours.
Adobe Dreamweaver Training
---
Adobe Dreamweaver is a web design and development application that provides a visual WYSIWYG editor (referred to as the Design view) facilitates rapid layout design and code generation as it allows users to visually create and manipulate the layout of HTML elements.
Dreamweaver features an integrated browser for previewing developed webpages in the program's own preview pane in addition to allowing content to be open in locally installed web browsers. It provides transfer and synchronization features, the ability to find and replace lines of text or code by search terms or regular expressions across the entire site, and a templating feature that allows single-source update of shared code and layout across entire sites without server-side includes or scripting.
Use Dreamweaver to design complex websites and to: customize palettes, utilize floating dialog boxes, and toolbars, create advanced interactive features, including: drop-down menus, rollover images, fluid-grid layouts, simple native apps for mobile devices and collapsible panels. Useful widgets and panels extend these features, taking Dreamweaver's capabilities far beyond what any of the other programs in this category have to offer.
Topics covered in your Dreamweaver training OR customize your own curriculum:
Customizing the Workspace
Overview of HTML and CSS languages
Starting a layout (quick)
Starting a new document
Divs—the major building blocks of your site
Tables—the other blocks
Working with text
Working with images
Adding navigation and interactivity
Forms
Going "Live" with your site—publishing to the web
Learn the basics and so much more!
Adobe Dreamweaver Training Denver, Level 1 Training Course (Download Course Outline)
Advanced, customized and onsite classes:
Advanced and/or customized training is offered onsite for all levels and class sizes in the Rocky Mountain region. Visit our Onsite Training page to request a customized quote.
Questions? Contact us and get a response the same day!