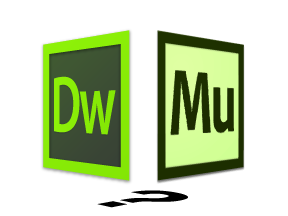 The release of the Adobe Muse application in the Creative Cloud subscription has many wondering what is the difference between Muse and Dreamweaver. Let's break these two programs down!
Adobe Muse
Adobe Muse was created primarily for graphic designers—an application to design and publish html websites without writing code. Muse gives designers creative freedom while taking away all the coding languages that many designers don't want to mess with. The interface is similar to InDesign and easy to use. If you are a regular InDesign user, you will be familiar with similar features such as Master Pages, Paragraph and Character Styles, and Assets Panel (same as Links Panel in InDesign). Bottom line: Focus on design over technology.
Adobe Dreamweaver
Adobe Dreamweaver was formerly originally created my Macromedia until Adobe purchased them in 2005. The last Macromedia version was 8.0 and the first Adobe version was CS3 (2007). While Muse focuses on the graphic designer, Adobe Dreamweaver focuses on the web developer. Dreamweaver users appreciate having full access to the code and getting immediate feedback of what the results will look like in split screen view or design view. Dreamweaver is the industry-leading software that provides both visual and code-level capabilities for creating websites and designs for desktops and mobile devices.
Pricing Differences
These are very different products aimed at very different users. One other major difference I should mention is pricing. Adobe Muse is licensed separately from the Creative Suite and is only available through a monthly subscription plan or the Adobe Creative Cloud (also a subscription-based membership). There is a good reason for this—with the subscription membership, Adobe can improve the software quickly, and provide updates on a regular basis to Adobe Muse users. Since it's release, Adobe has already announced 3 major updates to Muse.
Dreamweaver can be purchased individually, as a part of of a software package (Design and Web Premium, Master Collection), an individual subscription or as part of the Adobe Creative Cloud. Adobe has given their users many different options for purchasing the software.
Which application is for YOU?
[message type="simple"]Interested in learning more about Adobe Muse or Adobe Dreamweaver? We offer small, hands-on
Adobe classes
, taught by expert instructors. We teach from experience
—not from a manual.
[/message]