A graphics tablet can increase your efficiency and productivity if you are working in a creative application such as Adobe InDesign, Illustrator or Photoshop. But how? I will explain the different features and advantage of working with a drawing tablet.
What is a drawing tablet?
You might also hear a drawing tablet referred to as a graphics tablet, a digitizing tablet, a graphics pad or a specific brand such a Wacom. A graphics tablet can be used in lieu of or in conjunction with a mouse or track pad. There are many different versions of drawing tablets, but typically they come with a "pen" and a flat surface for drawing on—newer models are now also multi-touch, giving you the ability to use simple hand gestures and finger taps to create.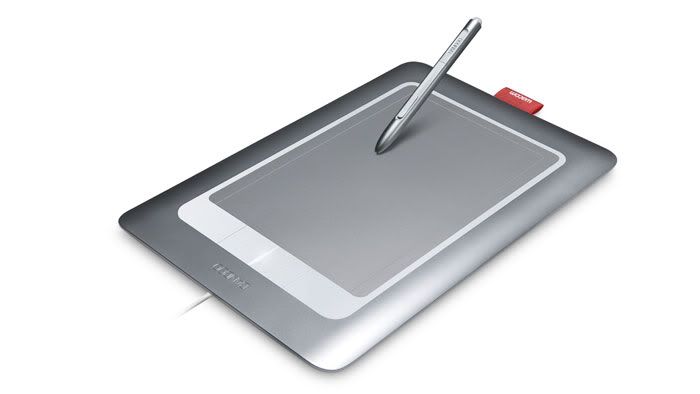 Using the Pen
Before purchasing a drawing tablet you want to make sure the pen feels comfortable in your hand. A good pen will have you drawing and creating much faster than you ever could with a mouse. Most pens will have an "eraser" feature—flip your pen over and you can activate the eraser tool in your graphics program. Also look to see if the pen has a button built onto the pen—this button can be programmed to act as the right click or double-click on a mouse.
Pressure-Sensitivity
When you are working in Adobe programs, you might see options for pressure-sensitivity but they cannot be activated unless you are using a tablet. Pressure-sensitive tablets detect the amount of pressure you are applying to the tablet and affect the line thickness/color applied—a behavior more natural and realistic, like drawing pencil to paper.
Additional Information:
Drawing tablets typically connect to your computer using a USB, but there are wireless models on the market
Drawing tablets are interchangeable with a mouse and do not need special software to use. But you will get the most out of your drawing tablet when using graphics software like Adobe.
Drawing tablets come in many different sizes—if you are a professional graphic artist, illustrator, etc…you would benefit from a larger surface, but will also be looking a larger price.